Beginners Spanish Course Outline
Our Open-Group Spanish Course for Beginners is the perfect introduction to the Spanish language. Learn the essential vocabulary, grammar, and phrases to start having simple conversations with your virtual classmates, and practice asking and answering questions and role-playing common travel scenarios.
Lesson 1
You will learn greetings; the alphabet; useful classroom phrases (e.g. Can you repeat that, please? How do you pronounce this? etc.);Spanish names;and how to introduce yourself (name, nationality, profession).
Lesson 2
You will learn how to introduce other people (name, nationality, profession); how to describe people's appearance; how to use the definite article (el, la, los, las); how to use the verb "ser"; and about feminine and masculine nouns.
Lesson 3
You will learn to ask questions and use question words(qué, de quién, etc.); how to start a dialogue; to describe how you feel; country names;colors; and the numbers (0-10).
Lesson 4
You will learn to ask questions about locations, time, and possessions; the days of the week; more numbers (11-30); how to use regular verbs: trabajar (to work), comer (to eat),vivir (to live), and others.
Lesson 5
You will learn how to formulate questions and sentences in the present tense; make your own sentences; tell the time; and use prepositions (en, de, a).
Lesson 6
You will learn how to say places in town; speak about your friend; describe your job; and fill in a form with personal information in Spanish.
Lesson 7
You will learn about places in Spain; how to ask questions about locations; the indefinite and definite articles; the correct word order in sentences; how to use the verb estar.
Lesson 8
You will learn how to ask for and give directions; the cardinal numerals (30-50); about ordinal numerals (masculine and feminine); and how to use prepositions (in, on, between, next to, in front of, etc.).
Lesson 9
You will learn to listen to and understand flight announcements; how to book a taxi, a room, a table at restaurant, etc.; and how to use irregular verbs to ask and answer questions.
Lesson 10
You will learn to speak about your family and marital status; how to use possessive adjectives (my, your, his, etc.); to ask for and give information; and to use the verbs saber and conocer.
* You do not need to buy a textbook to complete your course. Your teacher will share their materials (excerpts from textbooks, audio files, videos, etc.) with you during the classes using screenshare. Your teacher may also recommend other textbooks and grammar books to help supplement or continue your studies, but Language Trainers bears no responsibility for your decision to make such a purchase.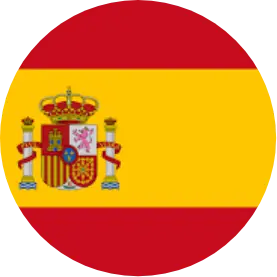 Our Spanish Teachers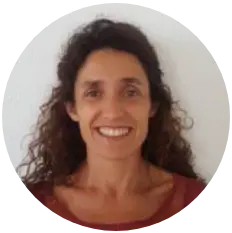 Eugenia
A multilingual and passionate Spanish language trainer, Eugenia has been teaching Spanish for over 20 years. She holds a Master's degree in Translation from the University of Cadiz, Spain, a Bachelor's degree in Physical Education from the University of Granada, Spain, as well as a Bachelor's degree in Translation from Malaga, Spain. In addition, Eugenia attended courses on Spanish and English Language Teaching, and she is fluent in French, Italian and Portuguese. Eugenia has delivered language courses to adults of a variety of nationalities, as well as teenagers and young people in different schools and institutions in Spain, Turkey, France and the US. She is highly experienced in training groups, and enjoys utilizing interesting learning activities and teaching strategies to create a friendly learning atmosphere and interactive lessons. One of our trainers, she has been a pleasure to work with, not only on language courses but also on material development. Moreover, our students have given excellent feedback about her teaching methodologies, including: "It has only been five classes but Eugenia is very flexible and interacting perfectly. I am really happy with her teaching," "We had the first few sessions and we get on very well! We established my level and adjusted the program accordingly,""The classes are going really well. Eugenia is excellent. Thank you for finding her for me." and "Everything is going well. Eugenia is fantastic. I improved my communication skills a lot. I'm really enjoying the lessons."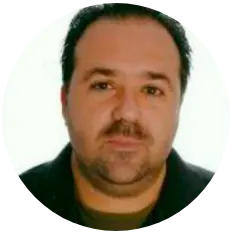 Salvador
Salvador is a qualified and dedicated Spanish language teacher with over 15 years' experience. After graduating from the University of Seville, Spain, in 2003, Salvador completed Spanish language teaching certifications in 2003 and 2004. His committed approach and friendly demeanor have enabled him to teach students of all proficiencies, from Beginner to Fluency, while guiding individuals and groups to fulfill their language learning goals.
Since 2018, Salvador has been teaching European Spanish via online courses using Zoom, Teams, and Skype, and he is extremely reliable and proficient at helping his students to learn, communicate, and practice their Spanish in virtual classrooms, in which he promotes in-class debates and the use of engaging web-based resources.
One of Salvador's biggest assets is his ability to operate outside his comfort zone and to adapt to his students on the fly. From teaching Academic Spanish to students in Spain and Portugal, and Business Spanish to professionals of global institutions like AXA, Santander Bank, and CISCO, to training people of all ages in general and conversational Spanish courses, Salvador is highly capable at tutoring learners to speak and understand his native language for any scenario. Thus, Salvador will not only teach you the Spanish language as laid out in the Language Trainers Connect course syllabus. He will also use your interests and goals, as well as his expertise in education, business, and Spanish literature, to introduce topics and exercises among you and your classmates to encourage you to learn and practice the words and phrases that are of most interest to you.
Please note that Language Trainers has many highly qualified and experienced native language trainers who teach courses for us. Your specific teacher may be one of those profiled here on this page or may be a different, similarly qualified teacher.