The Cost of Living In Dubai
In the last few years, Dubai seems to have gained popularity as the closest one can ever get to seeing paradise on Earth. But what makes it so attractive? As everyone who's been to Dubai will know, the city's developmental history, futuristic architecture and luxurious lifestyle all play a role. But, what about the cost of living in Dubai? Is it as expensive as they say?
→Sign Up Now: Free Trial Arabic Lesson With a Native Teacher!←
If you're considering making the move to Dubai, it's important to be aware of how much you will need to earn to live comfortably and be able to enjoy Dubai's many delights. In this article, we'll break down the typical costs associated with housing, food, transportation and more so that you can get an idea of what to expect.
Housing
One of the biggest expenses you'll face when living in Dubai is putting a roof over your head. In recent years, rent prices have been on the rise and they show no signs of slowing down. A one-bedroom apartment in a popular neighbourhood like Downtown Dubai can cost as much as AED 140,000 per year (that's over $38,000 USD, in case you're wondering).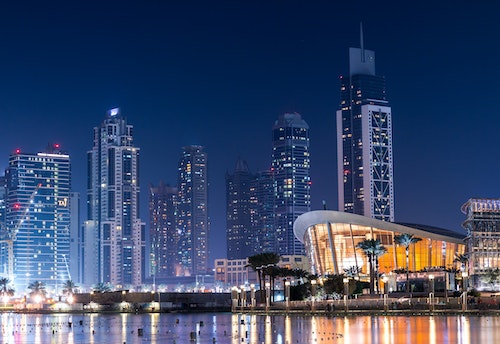 If you want to live in a more affordable neighbourhood, you can expect to pay around AED 80,000 per year ($21,000 USD) for a one-bedroom apartment. But be warned – the further you live from the city centre, the longer your commute will be!
The good news is that, just like in New York, it is quite common for people to share apartments in Dubai. In fact, many apartment buildings have been designed with this in mind, offering large units that can be easily converted into multiple bedrooms.
If you're looking to save on rent and reduce the cost of living in Dubai, sharing an apartment is definitely the way to go.
Groceries
The cost of groceries is another important factor to consider when budgeting for your life in Dubai. A trip to the grocery store can be quite expensive, especially if you're used to shopping at budget supermarkets back home.
A typical grocery bill for a family of four can easily exceed AED 1,000 (that's over $272 USD).
A loaf of bread, for instance, will set you back about AED 5 ($1.36 USD), while a bag of flour costs around AED 25 ($6.80 USD). Not what we would call cheap, right?
But not everything is bad news. If you're a meat-eater, you'll be happy to know that meat is relatively affordable in Dubai. A kilo of beef, for example, costs around AED 60 ($16.23 USD), and chicken is even cheaper at AED 50 ($13.54 USD) per kilo.
If you are shopping for milk, our suggestion is to buy big quantities at a time: this way. For example, you can pay around AED 15 ($4.06 USD) for a 4-litre container and spend less than you would buying four 1-litre bottles.
Eating Out
Dubai is a food lover's paradise, with a wide variety of cuisines to choose from. Besides, going out for dinner is a wonderful opportunity to socialize with the locals and put your knowledge of Arabic vocabulary into practice. But be warned – the prices can be quite high, especially if you're dining at one of the city's finer restaurants.
A meal for two people at a mid-range restaurant can cost anywhere from AED 150 to AED 400 ($40.64 to $109 USD), depending on what you order. And that's not even including drinks!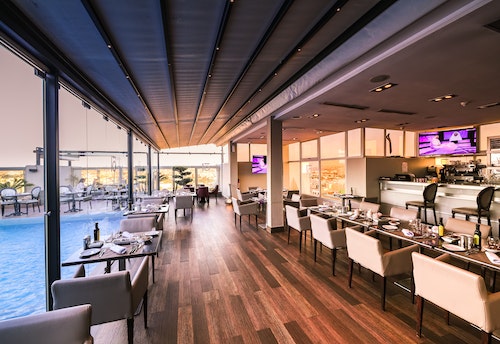 But wait, this doesn't mean you won't be able to eat out every once in a while. If you're on a budget and you really want to go out on a warm evening, there are plenty of cheaper options available. Fast food restaurants like McDonald's and KFC can be found all over the city, and they offer meals for as little as AED 20 ($5.41 USD).
What's more, there are a number of shawarma stands and other street food vendors scattered around Dubai where you can get a quick and truly delicious meal for less than AED 30 ($8.11 USD).
Public Transport
One of the best things about living in Dubai is the city's excellent transportation infrastructure. Whether you're looking to get around by car, bus, taxi or metro, there are plenty of options available.
The most popular way to get around Dubai is by taxi. The city's taxi fleet is modern and efficient, and you can easily hail a cab from just about anywhere. Taxi fares start at AED 10 ($2.72 USD), with an additional AED 1 ($0.27 USD) charge for each kilometre travelled.
If you're looking for a cheaper way to get around, the Bus is a great option. A one-way ticket costs just AED 2 ($0.54 USD), making it very affordable for budget-minded travellers.
The Dubai Metro, on the other hand, offers two different types of tickets:  a Red Ticket, which allows unlimited travel on the Red Line; and a Silver Ticket, which gives you access to both the Red and Green lines. A one-way ticket on the metro costs AED 4 ($1.09 USD), regardless of which ticket you purchase.
So, what about services like Uber or Cabify?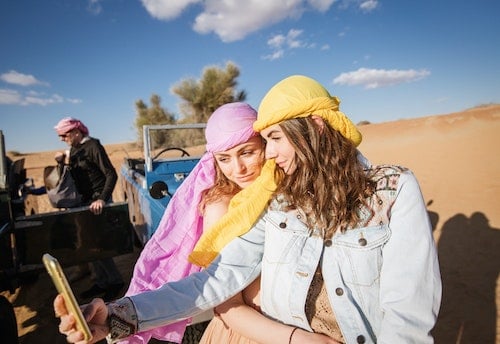 Well, you can use apps like Uber and Careem to get around Dubai. However, it's important to note that these services are not as cheap as they are in other parts of the world. In fact, they can be quite expensive, especially during peak hours!
Medical Insurance
One of the most important things to consider when working out the cost of living in Dubai is your medical insurance. The cost of health care in the UAE can be quite high, and if you don't have insurance, you could be facing some very hefty bills.
A visit to the doctor for a simple consultation can cost upwards of AED 400 ($109 USD), while a simple trip to the hospital can easily set you back AED 1,000 ($272 USD) or more. And in case you're wondering, no, we are not taking into account the cost of medication!
If you're planning on moving to Dubai, it's important to make sure that you have a good medical insurance policy in place.
So, what are the best medical insurance companies for expats in Dubai?
There are a number of excellent medical insurance companies that offer policies specifically for expats in Dubai. Some of the most popular options include Cigna, AXA and Daman.
As a rule, any of these will cover the cost of hospitalization, GP visits, emergency treatment and medication. However, it's important to check with your insurer to see exactly what is and is not covered by your policy.
Otherwise, you could be in for a surprise if you need to make a claim! One so nasty that you may find yourself becoming an expert in Arabic swear words all of a sudden.
Utilities
Before we leave you to work out the details of your move, let us remind you about a few extra expenses.
As soon as you move into your new place in Dubai, you'll need to start paying for utilities like electricity and water. The cost of these services will vary depending on the size of your apartment and how much you use them, but you can expect to pay around AED 500 ($136 USD) per month for these two services.
In addition, we imagine you will also want to have a good Wi-Fi connection and cable TV. These services are not cheap in Dubai, and you can expect to pay around AED 400 ($109 USD) per month for both.
So, what is the cost of living in Dubai?
Then, of course, there are a few other bills that you'll need to take into account when assessing the cost of living in Dubai. These include your phone bill, which can be around AED 200 ($54 USD) per month; your car insurance, which will cost at least AED 1,000 ($272 USD) per year; banking services, which can add up to a few hundred dirhams per month; and your visa fees, which must be paid every year.
All in all, the cost of living in Dubai is not cheap. However, if you're careful with your spending and make wise decisions about where you live and work, it is possible to live a comfortable life in this unique place.
Indeed, Dubai can be an incredible place to call home. With its world-class amenities, stunning architecture and year-round sunshine, it's no wonder that so many people are drawn to this desert metropolis!
Of course, if you're planning to go to Dubai, you will need to learn Arabic. Especially now that the 2022 FIFA World Cup in Qatar is around the corner!
At Language Trainers, we offer a range of excellent Arabic courses, taught by native speakers who specialize in tailoring lessons to suit every client's level and learning style.
Allison, who is taking an online one-to-one Arabic course from her home in New York, said: "Tarif is a great teacher and I have been enjoying the lessons a lot! I feel that I am getting a good mix of grammar and vocabulary, and we practice reading, listening, and speaking in each lesson. I get writing practice with my weekly homework, so it all feels pretty well-rounded. I've noticed that because there are so many dialects, Arabic has more nuances that are difficult to pick up without a teacher (compared to Romance languages, for example), so Tarif's input on those has been very valuable!"
→Sign Up Now: Free Trial Arabic Lesson With a Native Teacher!←
Would you like to take a few lessons with Tarif so he can help you to become proficient in conversation, reading and writing? Contact us today and we'll get back to you in no time!