The 9 Best Korean Books and Textbooks to Improve Your Korean Skills
Being the national language in North Korea, South Korea, and two jurisdictions in China, the Korean language has more than 75 million native speakers only in Asia. Impressive, right?
Plus, it's the language of K-Pop and K-Drama. This means that you have to know Korean if you are a fan of Korean culture and would like to have access to all the K-pop and K-drama materials on the Internet. For example, if you know Korean, you could understand the latest interviews with Jungkook, the popular BTS vocalist, or Ji Chang-wook, the lead actor in the K-drama Smile Again, as soon as they come out.
So, how can you learn Korean? Nowadays, there are many answers to that question. From language learning apps and audiobooks to language exchange chat rooms, the options are endless.
However, we believe that there's still a lot of merit in learning the old way: with Korean books. They will help you really understand how the language works so you can become a more independent and fluent user of Korean. So, let's dive into a list of our favorite Korean books and textbooks to help you learn Korean!
 
→Sign Up Now: Free Trial Korean Lesson With a Native Speaker Teacher!←
Why Learn Korean With Textbooks?
Textbooks allow you to Korean methodically and comprehensively. Rather than focusing on only one skill, these Korean books will help you with grammar, vocabulary, listening, reading comprehension, and even speaking.
Besides, they follow teaching techniques that have been scientifically proven to be efficient. No matter what your current level is, the right Koran textbook will allow you to boost your skills through attractive lessons and plenty of practice.
Below, you will find a list of Korean books to learn from home at your own pace. But before we delve into that, make sure you check our list of essential Korean phrases for beginners.
Best Korean Textbooks
1. Living Language Korean by Dr. Jaemin Roh
Korean books don't get much better or comprehensive than the complete edition of Living Language Korean. This book lives up to its glowing reviews by presenting learners with four textbooks, ten audio CDs, progress tests, games, attractive flashcards, and more.
One of the best things about Living Language is that it breaks down complicated grammar and vocabulary into easy-to-digest units that are as easy and simple as they look.
Get the whole package and go from starter to advanced with learning materials that have been tested over time by educators and have shown to be successful.
2. Read and Speak Korean for Beginners by Sunjeong Shin
The latest edition of this Korean textbook is a refined self-taught course that aims to make Korean more accessible to beginners. It covers eight main units that revolve around everyday uses of language such as giving and asking for directions and ordering food. This book also boasts some of the best graphics and illustrations you will ever see in a language textbook, which makes lessons more attractive and memorable.
Plus, with your purchase, you get access to an exclusive app with games and other features to complement your studies!
3. Let's Speak Korean by Fandom Media
Do you want to learn Korean in a more unstructured way? Then this is the book for you. Let's Speak Korean aims at teaching 1400 essential phrases and expressions to beginner learners in a short period of time.
These phrases come with pronunciation and grammar notes, as well as English translations for long sentences, which makes this one of the best Korean books for newbies. Grammar notes allow you to soak in complex rules in a natural way, through short, useful expressions that you can use in hundreds of real communicative situations.
Besides, this textbook comes with downloadable listening tracks recorded by native speakers that will help you perfect your pronunciation.
4. The K-Pop Dictionary by Woosung Kang
Do you want to learn Korean so you can understand K-Pop songs better? You're not on your own. The K-Pop Dictionary is one of the best Korean books for K-Pop fans!
This textbook has been created especially for fans of Korean music who want to be able to know exactly what they're saying when they sing along to BTS and Black Pink.
But even if you're not a huge K-Pop fan, this textbook will serve as a dictionary that will teach you everything you need to know about how younger people speak today. Its 500 contemporary Korean slang phrases are not only common in K-Pop songs, but in normal, everyday conversations among youngsters.
You can use this book as a standalone learning experience or as a light-hearted companion for any of the more serious textbooks on this list.
5. Sogang Korean by Song-hee Kim
This highly regarded course is more than a textbook or even a series of books. It's a whole learning experience that will allow you to track your progress from beginner to advanced.
Sogang Korean consists of twelve levels (1A up to 6B), each of which is explored through language workbooks that provide lots and lots of practice for every topic.
The only drawback of this book is that it doesn't have a writing section, which means that you will have to supplement its otherwise great content with external writing resources.
The Best Fiction: Korean Books
Now, if you want to learn Korean in a more informal fashion, you might want to consider a different kind of Korean book.
Learning with literature is a great idea if you're already a voracious reader who wants to do the thing they love while learning a new skill at the same time.
There are some unforgettable Korean books for fiction lovers.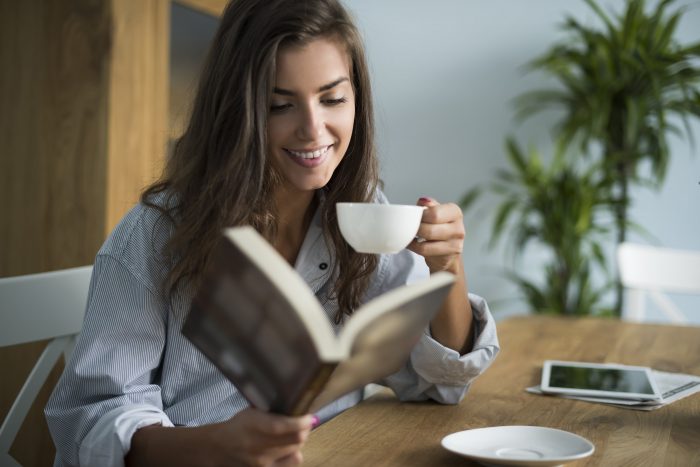 People photo created by gpointstudio – www.freepik.com
1. Kim Jiyoung, Born 1982, by Cho Nam-Joo
This enlightening novel begins with the protagonist attending a psychiatrist appointment in 2016 after she develops a mysterious condition wherein she starts to impersonate different women, dead and alive, who have played a big role in her life.
This disturbing condition is not only an impactful way to introduce a character, but a powerful statement to the reader that the author is deeply interested in recuperating the little-heard voices of women of 20th and 21st Century South Korea.
The novel has been read by millions in South Korea, and it was successfully adapted into a film amid the #metoo movement. Since it can be seen as an account of the life experiences of every contemporary Korean woman for the past fifty years, the language is fairly simple and, above all, easy to relate to.
2. The Plotters, by Un-Su Kim
Behind every assassin, there is a faceless mastermind, a plotter, someone who dictates every move behind the city's most intricate crimes. But who are these plotters? What or who do they do it for? What do they want?
Reseng is more than a killer. He is an assassin. Raised by an ill-tempered criminal named Old Raccoon in a place called "The Library," Reseng has never dared to question his fate: why go there, why kill that person, why kidnap that child. One day, however, Reseng makes a terrible mistake while on a mission, and a chain of carefully planned events is broken beyond repair.
If he wants to save his own life, Reseng will have to make a choice. Whether he will continue to be a pawn in a game he barely understands, or be the one who controls the plot in his own story. If you're looking for Korean books that will keep you on the edge of your seat, you can't go wrong with this one.
3. My Brilliant Life, by Ae-ran Kim
My Brilliant Life tells the heart-wrenching story of Areum a 16-year-old boy with a degenerative condition that has affected all his main organs. When he learns that he's unlikely to live much longer, he decides to give his parents a very special farewell gift.
Since he cannot bring home any awards or diplomas, he plans to write their love story, from the very day they met, until their final days together as a family. With this present, Areum hopes to alleviate his parents' pain by showing them what a wonderful life they've had together.
4. b, Book, and Me, by Kim Sagwa
Coming-of-age novels about teenagers usually come in one of two forms: the dystopian young adult fiction genre, or the tale of self-discovery rooted in realism.
b, Book, and Me subverts these stereotypes and leans on a surrealistic, feverish tone that goes in crescendo as the story progresses.
Kim Sagwa masterfully uses ambiguity and a sort of narrative fog to reflect on the alienating, sometimes frustrating feeling of being a kid in an adult world. This is a complex, dreamlike, anxious book that captures both the dangers and the beauty of youth. Though it might be too difficult to actually learn Korean with it if you're a beginner, it's a great title to put at the bottom of your "To read" list and get to it once you've learned enough Korean.
 
→Sign Up Now: Free Trial Korean Lesson With a Native Speaker Teacher!←
 
Learning with Korean books is great, but it may be difficult to be consistent and make progress without the guidance of a qualified native teacher. Do you want to go beyond Korean books and textbooks and learn to express your own ideas in this wonderful language? Reach out to us now and we'll pair you up with one of our best Korean teachers so you can start boosting your current skills as soon as possible!