Beginners English for Spanish Speakers Course Content
Contenido del Curso de Inglés inicial para Hispanohablantes
Ver textos en español
View page in English
This Open Group English Course was designed with the specific needs of Spanish speakers in mind. Throughout the lessons, your native teacher will be ready to explain all the nuances of English grammar and pronunciation that Spanish speakers usually struggle with. You will begin learning the basic phrases you need to get by in an English-speaking environment, like greetings and numbers, and will build up your skills progressively to the point of being able to order food and socialize with friends in English. If you are looking for an opportunity to develop your skills in a multicultural environment, this Elementary English for Spanish Speakers Course will surpass your expectations!
Estas clases grupales abiertas de inglés fueron diseñadas para satisfacer las necesidades específicas de los hablantes de español. A lo largo del curso, tu profesor nativo estará listo para explicarte todos los detalles de la gramática y la pronunciación del inglés que suelen ser difíciles para los hablantes de español. Empezarás aprendiendo las frases básicas que necesitas para desenvolverte en un ambiente de habla inglesa, como los saludos y los números, e irás desarrollando tus habilidades hasta el punto de poder pedir comida en un restaurante y socializar con tus amigos en inglés. Si estás buscando una oportunidad para desarrollar tus habilidades en un ambiente multicultural, ¡este curso inicial de inglés para hablantes de español superará tus expectativas!
Lesson 1
You will learn greetings; to introduce yourself; to talk about different countries and nationalities; how to use the positive and negative forms of the verb to be
Clase 1
Aprenderás los saludos; a presentarte; a hablar sobre los diferentes países y nacionalidades; como usar las formas afirmativas y negativas del verbo to be
Lesson 2
You will learn to talk about jobs; to use indefinite articles with jobs; to use the verb to be in personal questions; about word stress and sentence stress in questions and short answers
Clase 2
Aprenderás a hablar sobre los trabajos; a usar artículos indefinidos con los trabajos; a usar el verbo to be para realizar preguntas personales; como funciona la acentuación de palabras y oraciones en preguntas y respuestas cortas
Lesson 3
You will learn vocabulary related to everyday objects; to use this/that, these/those; to talk about your five favourite people; to utilize the possessive with's; more about word stress
Clase 3
Aprenderás vocabulario relacionado a los objetos cotidianos; a usar this/that, these/those; a hablar sobre tus cinco personas favoritas; a utilizar el posesivo con 's; más sobre la acentuación de las palabras
Lesson 4
You will learn vocabulary related to family members; to use the verb have/have got; to understand texts about family relationships; to complete a form
Clase 4
Aprenderás vocabulario relacionado a los miembros de tu familia; a usar los verbos have/have got; a entender textos sobre relaciones familiares; a completar un formulario
Lesson 5
You will learn to ask different questions; to say what time it is; to express yourself using common verbs in the present simple tense in positive and negative sentences
Clase 5
Aprenderás a hacer diferentes preguntas; a decir la hora; a expresarte usando verbos comunes en el presente simple en oraciones positivas y negativas
Lesson 6
You will learn to talk about places in town; to ask questions and give short answers using the present simple tense; to describe life in your favourite town
Clase 6
Aprenderás a hablar sobre los lugares de la ciudad; a hacer preguntas y dar respuestas cortas usando el presente simple; a describir como es la vida en tu ciudad favorita
Lesson 7
You will learn to talk about activities; to use phrases of time and frequency; more about how to use the present simple tense in positive and negative sentences; to ask and answer questions
Clase 7
Aprenderás a hablar sobre actividades; a usar frases de tiempo y de frecuencia; más sobre como usar el presente simple en oraciones afirmativas y negativas; a hacer y responder preguntas
Lesson 8
You will learn to introduce friends; to use strong and weak forms of verbs; to socialize with friends and other people; to talk about holiday activities
Clase 8
Aprenderás a presentar amigos; a usar las formas fuertes y débiles de los verbos; a socializar con amigos y otras personas; a hablar sobre actividades que realizas en tus vacaciones
Lesson 9
You will learn vocabulary related to transportation; to use can/can't when talking about possibility and ability; the definite and indefinite articles and no article; to book a taxi
Clase 9
Aprenderás vocabulario relacionado al transporte; a usar can/can't al hablar de posibilidades y habilidades; los artículos definidos e indefinidos y cuando no usar artículos; a llamar un taxi
Lesson 10
You will learn vocabulary related to food; countable and uncountable nouns; to order food in restaurants; to describe your favourite place to eat
Clase 10
Aprenderás vocabulario relacionado a comidas; sustantivos contables e incontables; a encargar comida en restaurantes; a describir tu lugar favorito para comer
* You do not need to buy a textbook to complete your course. Your teacher will share their materials (excerpts from textbooks, audio files, videos, etc.) with you during the classes using screenshare. Your teacher may also recommend other textbooks and grammar books to help supplement or continue your studies, but Language Trainers bears no responsibility for your decision to make such a purchase.
* No necesitas comprar ningún libro o manual para realizar tu curso. Tu profesor compartirá los materiales (fragmentos de libros, archivos de audio, videos, etc.) contigo durante las clases a través de la función de pantalla compartida. Tu profesor también puede recomendarte otros manuales y libros de gramática para ayudarte a complementar o continuar tus estudios, pero Language Trainers no se responsabiliza por tu decisión de comprarlos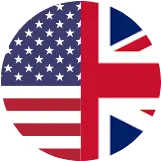 Our English Teachers
Nuestros profesores de Inglés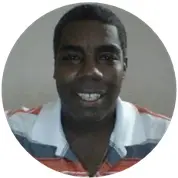 David
David is one of our most multicultural English teachers. Being born in New York, David had a passion for languages from a very early age. This took him to learn Portuguese, Spanish and French while travelling across South America. So, he knows very well the experience of learning a new la1nguage! David got his B.A. in Social Science/International Studies at the State University of New York at Buffalo, and his M.A. in TESOL (Teaching English to Speakers of Other Languages) at The New School, NY. Now, he is currently studying English Language and Literature at Faculdade Estácio, Brazil. David wanted to share his passion for meeting new cultures with everyone, which is why he helped many people get relocated with au pair and student visas. This means that he knows what it is like to move to a new country and experience new cultures! Plus, he has been teaching English all over South America since 2006, which has helped him perfect his teaching skills to make his classes communicative and engaging. So, if you want to learn English with a multilingual teacher who knows what it's like to learn a new language and knows how to help you, David will be a great match for you!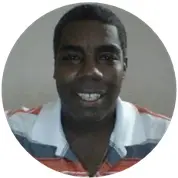 David
David es uno de nuestro profesores más culturalmente diversos. Nacido en Nueva York, David es un apasionado por los lenguages desde muy temprana edad. Esto lo llevó a aprender Portugues, Español y Francés mientras viabaja por América del Sur. Por esto, David conoce muy bien la experiencia de aprender un nuevo idioma! David es Licenciado en Ciencias Sociales/ Estudios Internacionales de la Universidad Estatal de Nueva York en Buffalo, y tiene una Maestría en Enseñanza del Idioma Inglés como Segunda Lengua de la New School, NY. Actualmente está estudiando Lengua y Literatura Inglesa en la Facultad Estácio de Brazil. David quería compartir su pasión por conocer nuevas culturas con los demás, por lo que ha ayudado a muchas personas a trasladarse con visas au pair y de estudiante ¡Esto significa que él sabe lo que es mudarse a un nuevo país y experimentar nuevas culturas! Además, desde 2006 trabaja como profesor de Inglés en diversos países de América del Sur. Esto le ha ayudado a perfeccionar sus habilidades como profesor, haciendo sus clases más comunicativas y atractivas.
Please note that Language Trainers has many highly qualified and experienced native language trainers who teach courses for us. Your specific teacher may be one of those profiled here on this page or may be a different, similarly qualified teacher.
Los cursos de Language Trainers son impartidos por diversos profesores nativos, altamente cualificados y experimentados. Tu profesor específico puede ser uno de los perfilados en esta página o puede ser un profesor diferente, pero con cualificación similar.