Benefits of Online Lessons for Teachers: Flexibility, Freedom and Comfort
The COVID-19 pandemic has shaken up our lives in many aspects, and one of them is in-person learning. Ever since March, most places in the world have faced restrictions or even quarantines to safeguard people's health. This means that face-to-face language lessons, for example, have had to switch to online classes or to hybrid courses.
Now, for tutors used to traditional face-to-face teaching, teaching virtual language lessons can be a major change, but this doesn't mean it's a negative experience. Quite the contrary, teaching online has a number of perks. Keep on reading and discover 3 major reasons why teaching from the comfort of your home is what you always wanted!
Flexibility and Freedom
Were you ever held up in traffic on your way to teach a lesson? You won't have to spend endless hours commuting if you decide to teach online. You just need to turn on your computer or phone, put on your headset and start the lesson!
Teaching online also gives you incredible freedom. If you have a family, you can save on daycare and teach while your kids are sleeping or at school. And if you enjoy the nomad life and want to travel the world, you can go away on holiday and not stop teaching if you don't want to. Provided you have an electronic device and a stable internet connection, you can work from anywhere, anytime (as long as your schedule suits your student).
Plus, if you plan to teach through a company like Language Trainers, keep in mind that most of them will let you accommodate your teaching hours so they suit your needs and your family life. Night owls, for example, can always teach languages later in the day instead of having to wake up early in the morning. The choice is yours!
More Job Opportunities
There are thousands of professional opportunities worldwide and teaching online can give you access to them. For instance, China has the world's biggest ESL market and they are always looking for native-speaking instructors who can teach English to children and adolescents. While not all English teachers may want to relocate to China, they can certainly apply for a job at the hundreds of online ESL schools and agencies that exist, such as VIPKID or Disney English.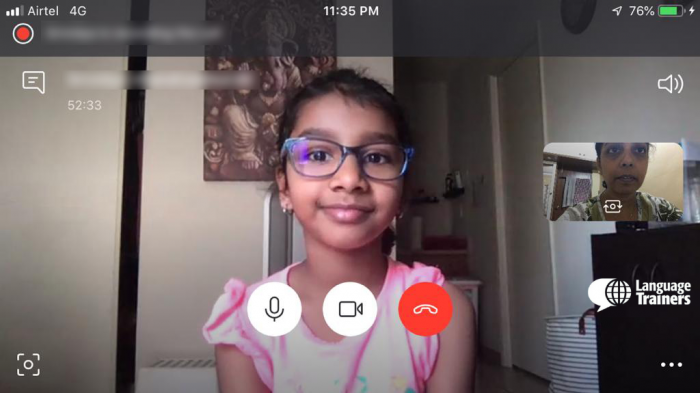 Also, many students want to acquire in-demand languages such as Mandarin Chinese, Arabic or German but cannot find a native-speaking, certified tutor in their area. With virtual lessons, you can help those people learn the language they always wanted no matter where they are!
Great Variety of Resources
Teaching online gives tutors endless options in regards to choosing materials to plan their lessons. News articles, interactive games and quizzes, movies and TV shows, short stories… the internet has thousands of free and paid resources for teachers to choose from taking into consideration the learners' needs and objectives.
You can send your students a link to those sites so they can get ready for the lesson beforehand, or simply share your screen with Skype or Zoom during the lesson. Using motivating, fun resources will also increase student engagement, as they are likely to participate actively and take part in activities if the topics and materials are of interest to them. The possibilities are endless!
These days, especially with the COVID-19 pandemic still going on, many people are embracing virtual activities, and taking virtual language classes is no exception. Start teaching online and enjoy a number of benefits and new opportunities!
Save time and money, find more professional options (as you can work locally or internationally without ever leaving your home) and virtually meet learners from all over the world. In this way, you will participate in an incredible, enriching cultural exchange and learn more about your students' traditions, culture and beliefs.